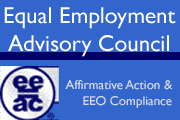 Chris Gokturk, Senior Consultant with the Equal Employment Advisory Council, will be presenting on new affirmative action regulations promulgated by the Office of Federal Contract Compliance Programs.
Mrs. Gokturk specializes in all facets of affirmative action program development, development of statistical analyses, compliance review preparation and management and all phases of the OFCCP compliance review process.
In September, the OFCCP released the final version of its affirmative action programs for veterans and persons with disabilities.  Regarding veterans, employers are required to set a hiring benchmark, and with persons with disabilities, employers are required to create placement goals for individuals within the employers existing workforce.  This is a "must see" presentation for all federal contractors and sub-contractors!
CLICK HERE to view Mrs. Gokturk's bio.  CLICK HERE to read more about the new OFCCP regulations.
CLICK HERE for more information on the next ABA HR & Labor Conference.